We visited beautiful Victoria last week for the Royal Victoria Half Marathon as well as to have Thanksgiving dinner with Morgan's side of the family. Apparently we didn't let Leah in on the itinerary as she seemed to think it was a business trip.


Our time flew by on the island after almost missing our ferry (Morgan just bought our tickets before they closed sales for walk on passengers). We drove to Victoria after a short visit with Morgan's aunt. After picking up my race package, we found our hotel and relaxed while Leah slept in her playpen. Once we were refreshed, we walked around town before meeting up with some friends for a nice dinner.


The next morning was race day. I was feeling a little anxious and excited but mostly thankful for the wonderful fall morning we were blessed with. Morgan hung out with Leah, meeting me at various points throughout the race. I was so encouraged to see them every now and then. I am used to running with friends while having great conversation but this race I ran alone at my own pace so I was especially happy to see them.
The first few kilometres seemed to drag on making me think this race was going to seem very long. There were many sharp corners with crowds of people struggling to find their way. Thankfully everyone seemed to fall into a steady pace with their fellow runners as the eleven thousand racers spaced out.


After the first bit of the race, the kilometres seem to fly by as the route wound through a beautiful park before following the ocean and circling back though a neighborhood. The leaves were in the midst of their beautiful, autumn color transformation as we ran on streets lined by many mature trees.


The route had many more up and down hills than I expected but was glad I had trained where I live. Any route close to my house is either up or down hill with no flat sections anywhere so I was well prepared. I found it easier to pace myself on the uphill and was also grateful that the uphill was mostly during the first half of the race.
There were a few memorable moments as well. Some people had set up a beer station (identical to a water station except for the beer) outside of their house complete with waiter's tray and small paper cups. One thoughtful homeowner had a small table with chocolate covered almonds and cut out oranges for the racers to help themselves to. There were a few bands, one trumpet player as well as many people cheering us on while others just watched and stared. There were a few block parties with radios blaring and children and parents alike waving and encouraging all the runners. There also was an interesting race volunteer.


"Move along…. move along." If you don't get the joke, don't worry. I don't get it at all and probably never will even though my husband would like to watch all the movies with me. (Not even sure what movies they are.)
The water stations seemed few and far between so Morgan helped me out. When I saw him I called out my need for water but it was a little too late for him to get the water bottle. He met me at the next point all ready with Leah's sippy cup with the lid off full of water. I had to laugh at the sight while appreciating my husband's innovation.
Just before the one kilometer mark, I heard someone say there was only one hundred and fifty metres left. At this point I started sprinting and then shortly saw the one kilometre left sign. I was a little worried about my stamina but figured I should try keep up a slower sprint to the end. After a few minutes I heard someone say there were only two corners left. There was one corner immediately in front of us so I started picking up my pace again. After the second corner I saw I had been misled again but was inspired to keep up the sprint once again.
When I saw the finish line banner, I gave it my all and finished with a time of 2:11:24. I was hoping for under two and a half hours so I was happy with my end time. I was incredibly sore, really tired and ate excessively but it was all worth it. Even walking to the car after the race was painful but it subsided fairly quickly after some rest.


After a nice, long, warm bath and shower, we enjoyed a great Thanksgiving dinner with all the fixings with Morgan's family. Here I am hanging out in the kitchen, a place I love to create in, with the great Aunt Bonnie.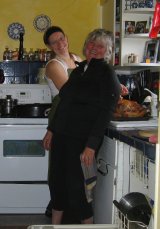 The weekend seem to fly by though we enjoyed all the different experiences. It felt great to go on a mini vacation away from home where we could enjoy some quality family time.
One Response to "Race Weekend"



YAY
Leave a Reply