Every place we stay at is so interesting to me. I see it as a window into a local's life in that city. The apartments are so varied in layout, age and surroundings.
We went out to the grocery store which is always an adventure in a new city. After breakfast we went out to check out Rome and it didn't disappoint. While we were waiting for Morgan to buy some Metro tickets we came across some ruins that were 300 years old.
We quickly came across one of the many drinking fountains that scatter the city. They can be used for filling your water bottle or as a drinking fountain if you block the bottom pipe.
I thought this arch was in an interesting place.
After walking past several gelato shops, we decided to treat ourselves.
We saw a church that was open and decided to wander in and this is what we found inside.
A fire truck.
Police cars.
This was the back of the church.
Some pretty macaroons inside a gelato shop.
Trevi fountain is a couple kilometres from our apartment. Check out all the people. Part of the attraction of checking out the fountain was standing back and people watching.
I appreciate Morgan's long arms and ability to take a selfie.
Exploring Trevi fountain.
Walking the streets with my boy.
The Pantheon which was built in 126 AD. It's amazing how these buildings are still standing in al their glory.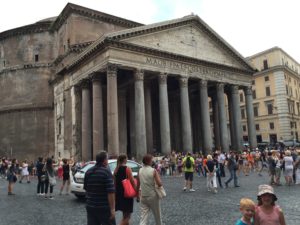 When we are exploring in a specific place, generally Morgan and I will each take a kid and stay in the same general area as we explain more about what we are seeing. Morgan walked with Leah around the Pantheon while I hung out with Joel.
On our two kilometre walk home, these are some of the sights we just happened to walk by. The amount of history and ancient sights in such a small area is astounding with each sight being amazing all on its on.
We are looking forward to checking out some of these sites as well as many more this week.
Leave a Reply