Leah is now crawling forward with purpose. She has been slithering backwards for awhile now and has been moving around the living room but now can actually see something a few feet away and go and get it. Unfortunately, these enticing objects are not always toys or kid friendly objects. This will keep me on my toes a lot more as our home will never be 100% kid friendly. I have tried to make it kid friendly as possible but there are some things that are not moving anywhere soon that we will endeavor to teach her not touch, such as our computers.
Though she has got her hands on a lot more things that I do not want her touching or sucking on lately, I have never heard a complaint when I took something away. That is, until this morning when I left my pen and notepad on the ground as I was packing for our trip. Even though I usually replace it with something she can have, there was still a distinct complaint. I have a hunch this complaint might escalate in the coming weeks and months… though only time will tell. Who am I kidding? What are the chances a young child will suddenly be okay with mom taking away a prized object?
Leah has been learning all sorts of new things in the past week. Along with crawling, Leah has been practicing her yoga moves lately in the crawling position with her not so little bottom straight up in the air. She has learned to open and close the flaps on the 'lift the flap' book that she got for Christmas. Leah is also eating pretty big chunks of soft food like cooked carrot. When we play peek-a-boo or other fun games, she really gets excited and anticipates the action. It is so cute. Yesterday night, I was counting to three and then giving her a big kiss on the cheek. Within a minute or two I just needed to start counting to get a huge giggle from her.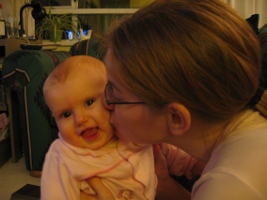 I wasn't totally sure what my days would look like once I had a baby in my arms but we sure haven't had time to worry about being bored. Mondays is Grandma day, Tuesday I go to a women's group at church, Wednesday is story time at the library with Thursday and Friday totally open. We get together quite a bit with the mommy gang. Sometimes we meet with everyone and other times we just meet with a few of them for swimming or last minute activities. I think I might have gone crazy long ago if it were not for all the awesome moms and babes we hang out with. Here is Leah showing off all her four teeth at one of the recent get togethers.

I think she if getting another tooth as she has been biting the cuffs of her shirts lately and even gumming on her wrist till it was all red. She still has been sleeping well which Morgan and I are so grateful for.
We have decided that I will be looking after one of Leah's friends in May for three days a week when her mom goes back to work. Though I am sure it will be busy, I am also excited about Leah having a playmate. It will be so neat to see them interact, grow and explore together.
One Response to "Moving Right Along"



So exciting to hear Leah's crawling!!

PS: LOVE the blog!!!
Leave a Reply