Leah has been so full of expressions lately varying from seemingly intense pain to mischievousness to abounding joy. She also has been changing her views on some common and not so common occurrences and showing us these interesting faces. You gotta love her style as she shows off her groupie sign while chilling in her sleeper.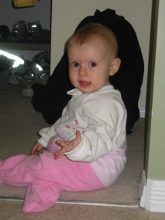 Speaking of sleepers, Leah has definitely had her share of pajama days as of late. With crazy snow storms making an unwelcome reappearance to being a little bit under the weather, sleepers just seem so much warmer and more comfortable. I have also been donning the lounge wear look as I am ambitiously spring cleaning my house. Which is a good thing as apparently I do not clean my house enough, even though these days you could technically call me a homemaker. When this contraption makes an appearance….
… I get this face…
…which generally turns into tears. In my defense, I do wash the floor at least once a week and do not always bother sweeping before hand as it is such a small area. Maybe I should make sweeping a daily habit, along with vacuuming. Leah wasn't always scared of the vacuum cleaner until very recently. I love the irony of it all. My child can be five feet away from a noisy train down by the beach and not blink an eye but the broom brings crying and tears. We do not beat her with the broom or any other household cleaning device but maybe she sees the writing on the wall that one day she will have to operate a broom and vacuum cleaner as part of her chores. Don't worry my little one, that time is still a long ways away.
Leave a Reply