As the seasons change outside, we are changing inside as well. Things may not appear any differently except for a few orange and green gourds in a bowl on the mantle but we have been changing things up. With the rain, we are now spending more time inside and have expanded our daily activities.
When the first morning of solid rain arrived that looked unrelenting, I thought I would have a long day ahead of me with two toddlers. In a slight panic, I searched on the internet for indoor activities for eighteen month olds in order to pass the time. Google didn't disappoint with some great, easy activities.
I pulled out my plastic bowling pin set as per one parent's suggestion. Though they never totally grasped the concept of rolling the bowl to knock down the pins, we had a lot of fun. Leah would put up the pins and as soon as one fell, she would knock over the rest with her hands in almost frustration before breaking out into laughter as the pins collapsed. The balls were thrown, tossed and even rolled once or twice while pins were put into place, knocked down and even thrown a few times as well.
Later in the week, we tried out some playdough. After finding a suitable recipe that we had most of the ingredients for, we got down to business. Leah enjoyed stirring the flour and salt together while Gabby enjoyed playing with the flour that escaped.


After adding some oil and boiling water, it was playtime. The sensation of touching playdough was very novel and exciting. Gabby was enthusiastically squishing and molding the dough right away while Leah hesitantly watched. After a few minutes, Leah showed a little more excitement but was still a little more reserved.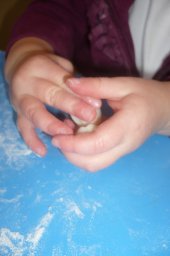 I am sure many, many hours will be spent at this table molding, shaping and squishing playdough creations in the years to come. Though their attention didn't last long, I loved watching them explore something new while I enjoyed a bit of sculpting myself.
Leave a Reply