My sister lent me her pasta maker to try out. Though I was excited to make my own pasta, the turnout was a little disappointing. At least it was edible. I was ready to return it until I got a few pointers from a baker and I will try again when I have the time and energy.


Though you can't tell from this smile at all, Leah has had one tough week. As all parents know, when your child has a tough week, your week is tough too. She steadily rotated between not eating and drinking to having a fever to sleeping a lot though the crying and crankiness stayed pretty constant. She wanted to be held and cuddled whenever she was awake which made me even more grateful Morgan took the week off. Her soothers were a constant companion until Friday when she actually played on her own for a bit while I was in the kitchen. I am so glad to see her personality shine once again as well as her smile.


I have been busy trying to rid our bathroom of the interesting colour combinations while finding some new ones. After much scraping, this is what I discovered on our cabinets. A lovely, shiny gold and yellow.


Now everything is white and waiting to be reassembled. Hopefully it will be all put together soon.


Though I firmly believe that Christmas decor should not be put up before December 1st, preparation can begin anytime. Here is one of the many cards I have been working on.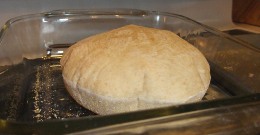 Morgan also took me to a Pizza, Pizza, Pizza making class this week. We weren't sure what to expect but were pleasantly surprised. We learned about some new vegetables, how to roast them, made some pizza, ate some pizza and got some great new recipes. Overall it was a fun experience with a great instructor that gave me some tips for bread and pasta making. One of the recipes she passed on was for pitas and taziki. I tried it out yesterday night and we had an amazing dinner with Greek chicken, taziki, roasted tomatoes, roasted peppers, roasted garlic, roasted shallots and fresh pitas.


Morgan has been busy in our attic space preparing for our new roof and insulation. He has been cutting, drilling and installing plywood and giprock.
After a week of being spoiled with Morgan around all the time, I'm sure this week will not be quite so productive in terms of tangible goods. A part of me is looking forward to being back into routine with Leah with more pitter pattering of little feet running around the house. We haven't been to the park in days or tried new fun things as we only had one friend visit this week. I would love to have Morgan around all the time but our retirement fund does not agree with my feelings.
After a day with Leah and her buddies, my work can't always be seen but the rewards are pretty sweet. All of the evidence of the faces wiped, the grabbed toys returned, the toys cleaned up, the diapers changed, the hugs and comfort given, the books read and the lunch prepared has all but disappeared. However, the memories are made, new experiences have been explored and there are two little happy girls at the end of the day. Well, they are happy most of the time which makes me happy most of the time too.
One Response to "Our life this week"



that cooking class sounds like it was really cool! glad you had a good week off.
Leave a Reply