Whenever we go outside, there always seems to be something new that catches Leah's eye. Some days she loves to go around with her watering can and water the plants and rocks around the yard. Other days it is her toy trucks or playing with the wind chimes or banging on the fire pit cover or being chased by me. Sometimes she is a ball of energy and other times she seems so much more laid back.


Her latest discovery is walking back and forth over the pathway in our backyard. She can't step from concrete step to concrete step yet but I think she likes the bumpiness of it all.
Usually I am outside with a few kiddies but on this particular afternoon it was just Leah and me which gave me a chance to have a closer look at the yard as well as snap a few pictures. I was surprised at how green this particular garden looks. Not the prettiest looking garden ever but green none the less.
In contrast, here is a picture from the island in the middle of our yard which is mostly brown but still has variety.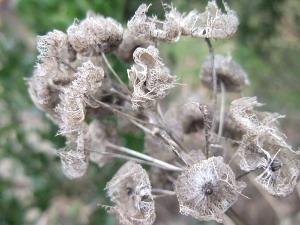 We purchased a new camera a little while ago as our old one died. Nothing too fancy but has more options than our other one. Though I haven't taken the time to play with it a lot and haven't read all the instructions, I enjoy seeing what I can figure out on my own. Reading and browsing through other's blogs and looking at their pictures has given me ideas to try take a few decent pictures of my own. Even if they don't turn out, not much is lost in this digital age.
All that to say, I have some funky flowers in my garden that look cool in the dead of winter after they lost their colour and life as well and I'm glad I was able to capture that in the picture above. Hope you enjoyed it too.
One Response to "Outdoor play and pictures"



Nice pic Sandy!

Even though you were yawning away last night I see you didn't make it to bed right away?
Leave a Reply