We went to Oroville for the long weekend and had a blast. The long car ride can frustrate Leah but this time she did awesome. She consumed Cheetos happily for at least an hour as I praised my purchases of junk food for helping the time fly by. It also helped that Morgan traveled with us this time and could walk around with Leah when we stopped to feed Joel along the way.
My aunt and uncle were up with their kids along with some of their extended family. One of the moms brought some paint for rock painting. It brought out the artist in all of us.
Joel tried out a cowboy hat but decided it looked too much like a sombrero on his head. Give it a few years buddy and it will fit you just fine.
Leah had fun hanging out with everyone and had a lot of fun with my cousin. She played with Leah for quite awhile in the water and got her prepped for a tube ride behind the boat. Here they are relaxing at the end of the dock.
There was no hesitation this time around the water. She copied the boys who were a few years older than her, running off the dock and jumping onto the tube. Leah had to start right at the beginning of the dock though and would always come to a complete stop before she jumped.
All of that fun led to this: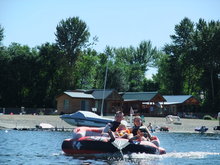 That's Leah sitting in front of Morgan with me next to her going for a tube ride behind the boat. She screamed just like she heard her cousins do while going tubing because that is what you do when you are having fun. We were at an almost idle for the first minute or two but gradually brought up the speed and even went out of the wake a few times to Leah's delight. An eight year old boy came along with us on the tube as well which helped Leah's confidence. After a rather sharp turn he said, "That was awesome" which Leah promptly echoed with the same amount of enthusiasm. When he fell off, Leah was so eager to make sure we went back and picked him up.
She didn't want to go for a boat ride this time around but I was a proud mom riding along beside her as we went tubing. Grandpa is going to be so proud.
One Response to "Oroville"



YAY LEAH!!! WAY TO GO KIDDO!
Leave a Reply