The Colosseum is quite the sight to behold. It's amazing how they engineered the building so it could stand so high.
I had really mixed feelings as we were walking through learning about the history of the Colosseum. It was unlikely any Christians were killed here by lions like I thought but many others met their death by animal or fellow man. Most of those killed were prisoners of war and criminals while people watched on for enjoyment. To stand in such an amazing building knowing its purpose brought about awe and deep sadness at the same time.
The original floor has been completely destroyed. It is now mostly open revealing all the passageways and about eighty elevators that were used to bring up people, animals and props to the stage.
Leah.
This was a temple in the forum. It looked amazing on its own but it would have been even more amazing when it was still fully standing. These were just the side alcoves of the building. The main ceiling would have towered over top.
Joel is standing in front of some frescoes that are over 1500 years old.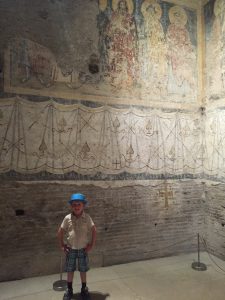 The temple on the raised ground used to stretch from one set of columns to the other. These buildings would be awe inspiring to the visitors who were living in grass thatched huts.
In front of the Colosseum is the arch of Constantine. It was illegal to be a Christian, even punishable by death and then the tides turned and it was illegal to not be a Christian. This is a little baffling just on the surface but even more so when you realize it's forcing belief, not just behaviour, as if that is possible.
Some mosaics from back in the day.
It was a great day of seeing grand structures and learning more about Roman history. It's been super hot in Rome while walking around from shady spot to shady spot. The kids have been champs as we have been doing tons of walking, including many stairs and have been learning about what they are seeing. This is such an amazing way to learn history.
Leave a Reply