We had a lovely, quiet, rest day. We spent the day just hanging around and joined in my friend's normal rhythms of life. These two sure hit it off.
Joel 'fed' their cat Smokey a piece of ham. I love how kids are so excited about the simple.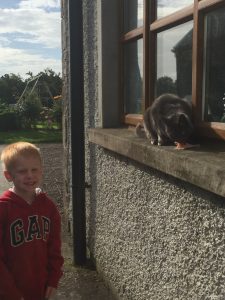 We went for a short ride over to visit my friend's mother in law. The Irish are so friendly and kind. We sat on her couch and she told us all sorts of stories about her history and the history of her house. Her husband lived his entire life in her current house and it has been passed down throughout the years. She lit her old stove with newspaper and some twigs and threw in some coal to keep it going. She used to cook in it and still hangs her laundry above it to dry. It felt like we went back in time. It was nice to relax before one more grand adventurous day.
Leave a Reply